Dental implants are the longest-lasting tooth replacement treatment, and they are also the most natural. The dental implant process ensures you get a tooth, or teeth, that look and function just like your natural teeth. This way, you can go about your normal life without dealing with the negative impacts of missing or damaged teeth.
At OKC Smiles, our implant dentists are here to provide you with the replacement tooth option you've been looking for, so you can have a smile you love. Discover more about our implant dentistry services in Oklahoma City or reach out to schedule a consultation.
Dental Implants & Implant Dentistry in Oklahoma City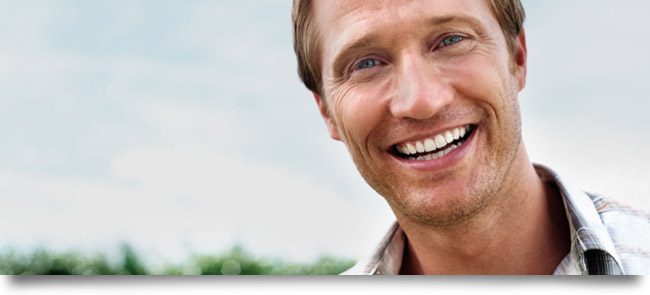 Want a more natural-looking and more comfortable cosmetic dentistry solution to missing teeth than removable dentures? OKC Smiles near Moore and Norman, OK, provides top-quality implant dentistry solutions. A dental implant is a metal alloy (often titanium) post, which is permanently anchored into the jawbone.
The metal alloy fuses with the bone as it heals in a process called osseointegration—becoming just as strong and permanent as your natural tooth. Once the dental implant is placed, a tooth crown or dental bridge is attached. Dental implants can even be used to anchor dentures in a procedure known as the All-on-4® Treatment Concept.
Dental implants are an excellent replacement tooth option, whether you need one or all of your teeth replaced. The dental implant process is done under the care of our experienced dentist, and we will do all we can to provide these services in a comfortable environment.
Dental Implant Benefits
Dental tooth implants and implant-supported dentures offer a wide variety of benefits. Below are some great benefits of dental implant solutions:
Surprising Comfort | Because of the material used to construct tooth implants, they are extremely comfortable. Clients who opt for tooth implant procedures often forget in their day-to-day activities that they even received dental implants in the first place.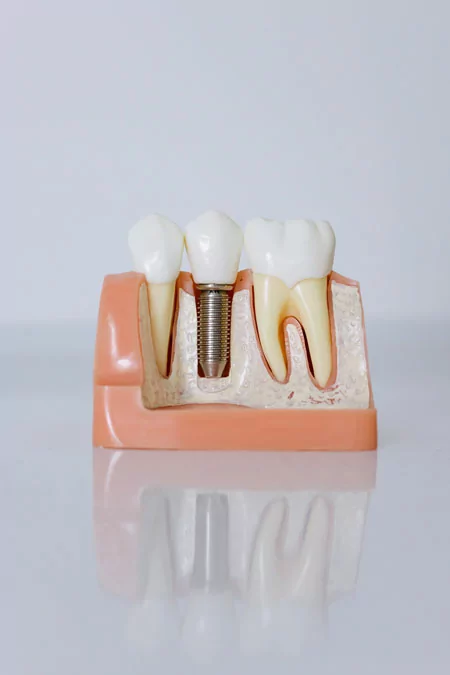 Youthful Appearance | Unlike traditional dentures where all the natural roots of your teeth are removed, individual dental implants focus on the damaged or missing ones only. As a result, the natural structure of the face is preserved. Implant-supported dentures also help to preserve a patient's facial structure.
Long-term Solution | The great thing about tooth implants and implant-supported dentures is that they are extremely durable and strong. 

While other replacement tooth options, such as dental bridges, only last around ten to 15 years, the dental implant can last a lifetime. 

Natural Look | Oklahoma City dentists Dr. Phan and Dr. Murray are so skilled in the art of cosmetic surgery that they are able to place beautiful tooth implants and restorations that are hardly discernible from real teeth.

The replacement tooth that's placed on top of the implant post is created using a composite that matches the color of your other teeth.

Resilient Foundations | It doesn't matter whether you're looking to replace an individual tooth, multiple teeth, or all of your teeth. The dental implant options offered by Dr. Phan and Dr. Murray give your teeth a rock-solid and secure foundation.
Why Choose OKC Smiles For Teeth Implants?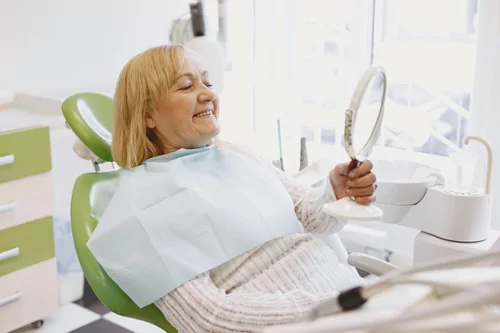 We are able to both place and restore your dental implants right here in our comfortable Oklahoma City cosmetic dental office. Having all dental implant services available in the same location is not only more convenient for our patients, but it also helps enhance the quality of care as we can see the implant dentistry process from diagnosis and placement to integration and restoration.
For those who fear dentures may be in their future, consider implant dentistry as an alternative. Dental implants will offer you the comfort and freedom to eat, chew and smile the same way you did before. Also, you will not need to worry about the maintenance that dentures require. Another HUGE benefit of a tooth implant is that you will not experience the same jaw deterioration that those who opt for dentures deal with.
When a tooth and its root are removed from the jaw, the jaw no longer has to support those teeth and therefore does not need to maintain the same bone mass and strength. You will notice the sag in people's faces who have traditional dentures. Dental implants will help your face maintain its natural shape and strength.
The Dental Implant Procedure in Oklahoma City
Tooth Implant Procedure Step 1 – CONSULTATION | First and foremost, you need to set a consultation with Dr. Phan or Dr. Murray and their Oklahoma City dental team for an initial implant examination. This diagnosis will involve taking x-rays and impressions of your teeth. The team will then evaluate your case and partner with you to determine what kind of dental implant procedure best suits you.
Tooth Implant Procedure Step 2 – IMPLANT PLACEMENT | Once the initial preparations are done, the Oklahoma City OK dental team will gently place the titanium dental implant into the predetermined section(s) of your mouth.

This process is performed under pain medication, and we can also provide sedation dentistry to make you as comfortable as possible.
Tooth Implant Procedure STep4 – ABUTMENT PLACEMENT | Next, your dentist will attach a small connector piece, known as the abutment, to the implant post that was surgically placed in your jawbone. The abutment extends just above your gum line and serves as the anchor point for your new artificial tooth. Once the abutment is secured, your gums are allowed to heal around it before the final restoration step takes place.
Tooth Implant Procedure Step 3 – RECOVERY | When the Oklahoma City OK dental team has finished placing the new implant you will be given a specific set of healing instructions so that the recovery of your mouth will go as quickly and smoothly as possible. This can take as short as three months or as long as six months, depending on the type and number of placements done as well as your personal healing ability. While you are in recovery mode, a remarkable process takes place called osseointegration — where your jawbone "fuses" with the dental implant. This results in an exceptionally sturdy base on which your new (and beautiful!) restorations can be placed.
Tooth Implant Procedure Step 4 – RESTORATION | Our final step in the dental implant procedure is to let the implant area fully heal and fuse with the supportive jaw tissues, a restoration (dental crown, dental bridge, denture, etc) will be placed on the implant abutment. The dental crown may then look and feel so natural that you may even forget your new implants and restorations aren't your natural teeth.
The dental implant process may take longer than some other tooth replacement options, but it's the best way to ensure you get the long-term results you're looking for. Missing or damaged teeth can lead to severe dental issues such as impaction and loss of bone density, so it's important to seek out replacement tooth options as quickly as possible. Call today to schedule a consultation.
How Dental Implants Work
We're not kidding when we say that dental implants are the most natural-looking way to replace missing teeth. The jawbone actually forms a chemical and mechanical bond with the tooth implant and grows right into the implanted device! However, only patients with healthy oral tissues and mostly intact jawbones are eligible for dental implants. If you aren't a candidate for implant dentistry, we will tell you what other cosmetic dentistry techniques we can use to transform your smile!

These images show the dramatic impact dental implants can make on nearly any smile, even right here in Oklahoma City. A tooth implant is a perfect fit and looks as good – if not better – than your original tooth!
Schedule an Implant Dentistry Consultation in Oklahoma City!
Just contact OKC Smiles via the online appointment form or by calling 405-634-7303 to schedule an implant dentistry consultation with Dr. Phan, DDS, or Dr. Murray, DDS, today! We provide dental implants and dental implant restorations to patients in and around Oklahoma City, including Moore and Norman, OK!
Related Content