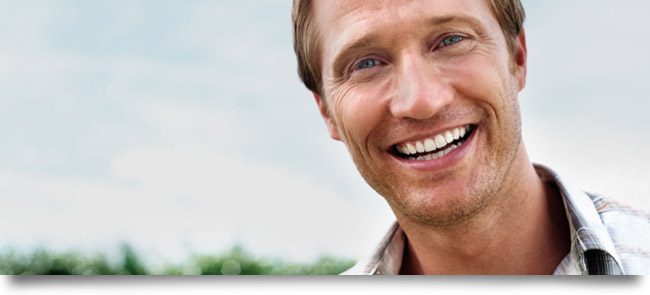 Dental Implants from Dr. Mark Phan and Dr. Kevin Murray in Oklahoma City
Want a more natural-looking and more comfortable cosmetic dentistry solution to missing teeth than removable dentures? OKC Smiles provides top-quality implant dentistry solutions. A dental implant is a metal alloy (often titanium) post, which is permanently anchored into the jawbone. The metal alloy fuses with the bone as it heals in a process called osseointegration—becoming just as strong and permanent as your natural tooth. Once the dental implant is placed, a tooth crown or dental bridge are attached.

We are able to both place and restore your dental implants right here in our comfortable Oklahoma City cosmetic dental office. Having all dental implant services available in the same location is not only more convenient for our patients, but it also helps enhance the quality of care as we can see the implant dentistry process through from diagnosis and placement to integration and restoration.
For those who fear dentures may be in their future, consider implant dentistry as an alternative. Dental implants will offer you the comfort and freedom to eat, chew and smile the same way you did before. Also, you will not need to worry about the maintenance dentures require. Another HUGE benefit of a tooth implant is that you will not experience the same jaw deterioration that those who opt for dentures deal with. When a tooth and it's root are removed from the jaw, the jaw no longer has to support those teeth and therefore does not need to maintain the same bone mass and strength. You will notice the sag in peoples faces who have traditional dentures. Dental implants will help your face maintain its natural shape and strength.
We're not kidding when we say that dental implants are the most natural-looking way to replace missing teeth. The jawbone actually forms a chemical and mechanical bond with the tooth implant and grows right into the implanted device! However, only patients with healthy oral tissues and mostly intact jawbones are eligible for dental implants. If you aren't a candidate for implant dentistry, we will tell you what other cosmetic dentistry techniques we can use to transform your smile!
These images show the dramatic impact dental implants can make on nearly any smile, even right here in Oklahoma City. A tooth implant is a perfect fit and looks as good – if not better – than your original tooth! Just contact OKC Smiles via the online appointment form or by calling (405) 543-2690 to schedule an implant dentistry consultation with Dr. Phan or Dr. Murray today!