Periodontal Treatment In Oklahoma City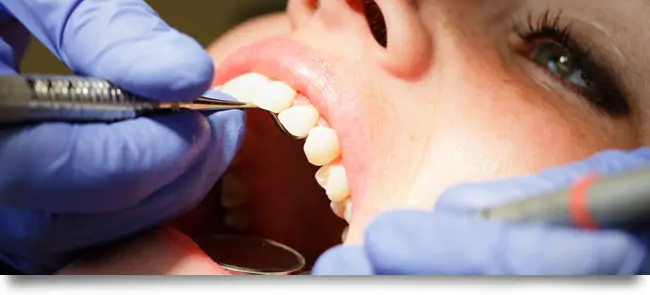 People are becoming more aware of just how serious gum disease can be. So much so in fact that it can seriously harm your entire body, or worse. Research continues to prove that your dental health is tied directly to your overall health and therefore requires due attention.
At OKC Smiles, we have the experienced team, cutting-edge tools, and continuing education to make sure we identify, treat and resolve any gum disease or potential gum disease issues you may have. We truly care about our Oklahoma City patients and do all we can to make sure we stay current with the latest and most effective means of periodontal treatment.
Gum disease, or Periodontitis, occurs when microorganisms attach to your teeth and your immune system responds aggressively to them. If left alone, this disease can lead to loosening and even the loss of your teeth. If you already have missing teeth, ask us about dentures and dental implants. Bone loss is not uncommon either in advanced stages.
Some symptoms of gum disease in Moore, OK, include:
• Bad breath, or halitosis, with some people reporting a "metallic" taste in their mouth
• Bleeding gums after brushing, flossing and even biting hard into food in some cases
• Gum swelling
• Lengthening of teeth due to receding gums
• Loosening teeth
• Pockets that develop between the teeth and gums
Many cosmetic dental patients suffering from gum disease don't believe it's serious because they don't experience pain with the symptoms and therefore assume the symptoms are insignificant. Don't let this be you! Gum disease has been directly tied to increased risk of stroke, heart disease, and even delayed memory.
Protect Your Oral Health – Conquer Gum Disease in Oklahoma City!
If you are experiencing any of the symptoms listed above, please contact us for a free consultation. We will make sure you have a pleasant experience and do all we can to address your gum disease issues and create a periodontal treatment plan. Call us today and schedule a visit. You won't regret it. We provide gum disease treatment services to patients all over Oklahoma City, including those coming from Moore and Norman, OK.
Related Content