Did you know that dentures today are much more effective and comfortable than they used to be? When you think about dentures, you may imagine a dental treatment that's more awkward or undesirable, but the truth is that dentures are an effective, practical treatment for individuals who are missing many or all of their teeth.
If you are missing teeth and looking to improve your quality of life, dentures placed by an experienced cosmetic dentist could be the right option for you. At OKC Smiles, our dentist and staff will find the best treatment plan to restore your mouth to functionality, so that you can go back to using your teeth comfortably.
Discover more about dentures here or reach out to us today to book an appointment.
The Trouble With Missing Teeth
The problem with missing teeth extends beyond aesthetics. It can lead to a range of dental and oral health issues.
For starters, gaps in your smile can cause the remaining teeth to shift, leading to misalignment and bite problems. Additionally, missing teeth mean less stimulation for your jawbone during chewing. Over time, this lack of stimulation can lead to bone loss in the jaw, altering your facial structure and causing premature aging.
Missing teeth can make certain words difficult to pronounce, impacting speech clarity. They can also restrict your diet, preventing you from enjoying all your favorite foods. Address your missing teeth for the sake of your overall oral health and quality of life.
Dentures In Oklahoma City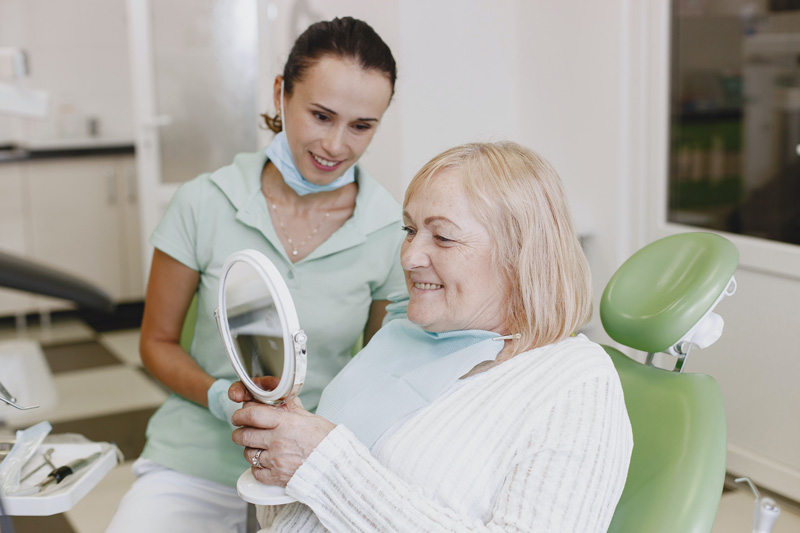 Dentures are false/prosthetic teeth or devices used to fill gaps in your smile, reconstruct weakened or damaged areas of your smile, or replace your natural teeth altogether. Depending on your unique situation and circumstances, the great doctors and team at OKC Smiles will work with you to develop the perfect customized cosmetic dental solution for you.
We offer several options for dentures. More traditional dentures are removable for cleaning and rest only on the gums. However, at OKC Smiles, we also provide implant-supported dentures with prosthetic tooth roots and an even more secure, longer-lasting solution for missing teeth.
When you book an appointment at OKC Smiles, one of our dentists will assess your mouth and talk to you about the best options. We want you to have a smile you love and that keeps you comfortable.
Dentures offer four primary benefits to you:
Improved Aesthetics |

Missing teeth are not only noticeable when you smile, but the loss of a tooth or teeth weakens your jaw bone and can lead to a misshapen or irregular facial structure. Dentures help by making your smile look great not only when you share your smile, but when you are not smiling as well. Dentures do this by supporting cheeks and lips and mitigating the "collapsed" appearance that often results from missing teeth.

Better Chewing Ability |

No surprise here… missing teeth can make it difficult to chew. Your OKC Smiles customized denture solution will give you back your ability to chew as if you had never lost any teeth. Don't underestimate the importance of chewing. Food that has not been chewed properly can lead to digestion and overall health issues.

Higher Self-Esteem |

Don't let an imperfect smile prevent you from enjoying life to the fullest anymore! OKC Smiles denture solutions are so natural looking that practically no one will even know they're not real. Work with us to create your dream smile with dentures so you can share your smile confidently with everyone.

Clearer Speech |

You may have noticed that missing teeth can make forming certain words difficult. Properly created dentures will solve this issue and help you speak confidently again, without worrying about an unwanted lisp creeping into your sentences.
Implant Supported Dentures
As an alternative to conventional dentures, you may want to consider implant-supported dentures. This restorative dental procedure is a good long-term tooth replacement solution that can offer more stability than standard dentures.
With several dental implants used as anchors for the dentures, gum and jawbone health is preserved. You only need a few implants to support an entire row of teeth, so the process isn't nearly as difficult as it may seem. Implant-supported dentures can also be removed for cleaning. This denture option allows for increased chewing support as well as more comfort while talking and eating.
LJ is a dentures patient of OKC Smiles near Moore and Norman, OK, and he has now had the opportunity to compare regular dentures to implant-supported dentures. In the video below, he explains a bit about what regular dentures are like and the night and day difference he has found now that he has dentures supported by mini dental implants.
Damaged or Missing Teeth? Schedule a Denture Consultation in Oklahoma City!
There is no need to put off dentures because of fear or anxiety. We will find the right denture solution for you. We also offer options like sedation dentistry to ensure the treatment process is as comfortable as possible.
OKC Smiles will partner with you to make sure you can put your best face forward without breaking the bank. Ask us about conventional dentures, implant-supported dentures, or even implant dentistry as another alternative to replace missing teeth. Give us a call, text, or email today to schedule a free denture consultation.
We happily provide dentures and other tooth replacement solutions to patients who come from all over Oklahoma City to see us, including the Moore and Norman areas.
Related Content