Invisalign® Invisible Braces in Oklahoma City, OK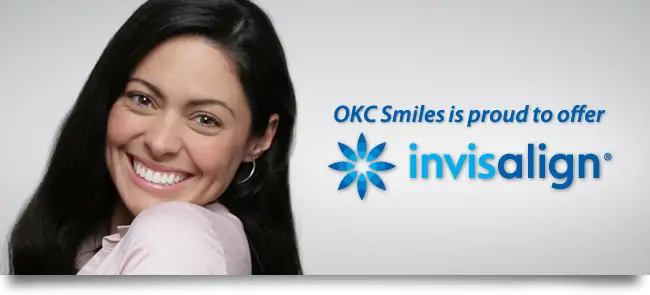 Gone are the days when minor orthodontic cases require traditional wire braces with accompanying headgear. Invisalign® braces have made it possible for people to create the smile of their dreams without anyone even noticing.
Our cosmetic dental practice near Moore and Norman, OK, is proud to offer Invisalign® clear braces as a new alternative to the traditional wire braces. Many people have had traumatic experiences with traditional braces or have had friends that went through them. Invisalign® braces remove the embarrassment from orthodontics and deliver stunning results as well. Now you can have the best of both worlds.
How Does Does Invisalign® Work?
The Invisalign® invisible braces program starts with a casting of your current smile. Your current smile is analyzed and then the ideal straightened teeth state is plotted on a computer. Customized sequential trays are then created that that gently shift your teeth to the desired position in a matter of months with most people not even noticing they are there. The secret is in the specialized clear plastic used as the sequential braces. You can even pop them right off for eating, brushing, and whenever else needed.
Am I a Candidate for Invisalign® in OKC?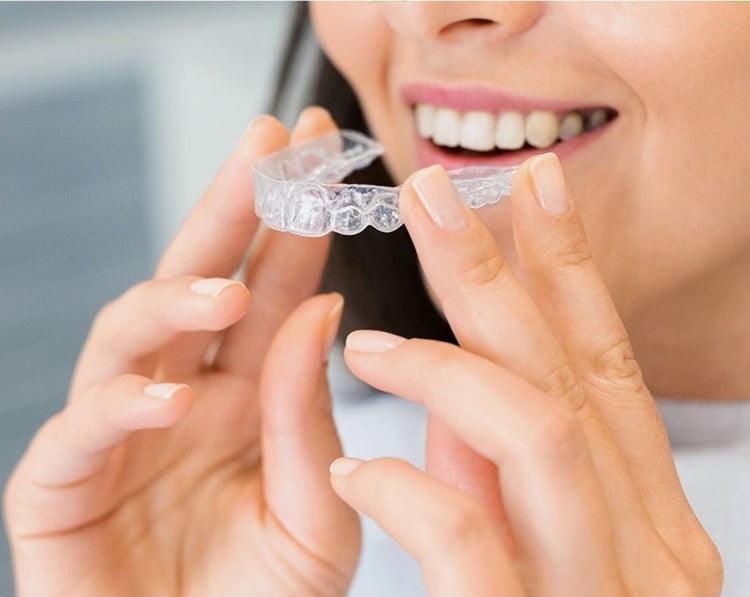 Though Invisalign® does work for many, some people may not be candidates for Invisalign® braces—depending on the severity of the misalignment and other potential issues. If you are a candidate for clear braces, you will be amazed by the effectiveness of the treatment. People are thrilled that they have the opportunity to get that perfect smile without the need for traditional wire bracket braces. That is ESPECIALLY true for adults who have put off braces for years because of fear, embarrassment, career, and any other number of reasons. Don't let your imperfect smile hold you back another day. OKC Smiles is here to help and partner with you for your Invisalign® treatment plan in Oklahoma City.
Want Straighter Teeth? Schedule an Invisalign® Consulation in Oklahoma City!
Looking for the confidence that straight teeth bring? Schedule a free clear braces consultation with your dentist in Oklahoma City. Contact us today to see if Invisalign® clear aligners is a viable option for you to help you achieve the smile of your dreams. We provide Invisalign® treatment to patients coming from Moore, Norman, and the surrounding areas of Oklahoma City.
Related Content