When you look at someone with a bright, white smile, do you wonder if you can also achieve this look? Many people deal with teeth that aren't uniform or as bright as they'd like, so this is nothing to be ashamed of. Various factors, such as age, genetics, damaged teeth, and even medications can impact the look of your teeth.
Regardless of why you don't have the smile you want, you can change the appearance of your teeth with assistance from cosmetic dentistry professionals in Oklahoma City. One of the treatments we provide is porcelain veneers.
With porcelain veneers, you can get the white, straight smile you want, without the long-term processes of braces or restorative dentistry work. Contact our office to book an appointment or read more about our porcelain veneers.
Porcelain Dental Veneers in Oklahoma City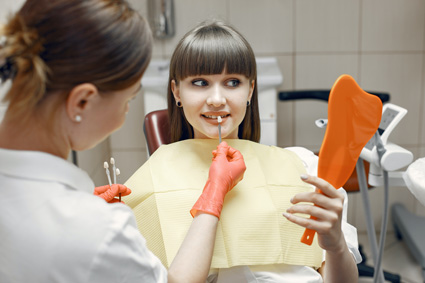 What's so great about porcelain veneers from OKC Smiles? While other cosmetic dentistry treatments are an excellent option, some people want results without getting things like crowns or bridges. In these cases, a porcelain veneer may be the best choice for you.
A dental veneer consists of biomaterials that can revolutionize your smile without invasive treatments.
Embarrassing gaps and cracked, weakened, and discolored teeth are a thing of the past. At OKC Smiles, you can get an extremely dramatic cosmetic dentistry makeover solution with ultra-thin porcelain veneers. These natural-looking teeth replacements return structural integrity to your teeth and a smile to your face!
Because of the custom fit and the slightly translucent finish of porcelain veneers, no one will believe you're wearing them–and neither will you until you see what a gorgeous, perfect smile you now get to show off!
What Are Porcelain Veneers?
Porcelain veneers are a simple concept, but it takes the skilled hands of a top-quality cosmetic dentist to make them look and feel wonderfully natural.
A porcelain veneer is a thin, porcelain overlay that is placed over the front of a tooth. The dental veneer itself is masterfully crafted to resemble the shape, texture, dimension, and natural, sheen that a beautiful and healthy natural tooth has. These veneers are permanently affixed to the tooth that is treated, so you can chew, laugh, and live like you normally would. Only now you will have a gorgeous new smile to boost your confidence and self-esteem.
Advantages of porcelain veneers in Oklahoma City include:
Strong and durable
Natural looking
Comfortable and unobtrusive procedure
Long-lasting
Easy to create the smile of your dreams
Instant teeth whitening

If you're uninterested in doing a longer process of teeth whitening or replacing missing teeth, dental veneers could give you the look you want through a quick, easy, and efficient process.
The best way to know if you're a candidate for porcelain veneers is to book an appointment with our cosmetic dentists at our Oklahoma City office. Some patients are missing too many teeth or need other restorative work to support a veneer. But, don't worry. We also offer other minimally invasive options such as Invisalign braces and teeth whitening to help you achieve your desired results.
Contact us today to see if you'd be a good candidate.
Reasons to Get Veneers:
To prepare for a wedding
To celebrate a career advancement
To age gracefully
To accompany a lifestyle change like quitting smoking.
Schedule a Dental Veneer Consultation in Oklahoma City!
Yes, you really can have that smile you always wished you could have. And yes, it's more affordable than you might think. We are also here to help you figure out financing options and to make a dental plan to get you the smile you want. Porcelain veneers are sometimes called 'instant orthodontics' because they can straighten some misaligned teeth faster than braces.
Don't put off attaining an appearance that will enrich your life and life's experiences any longer. Learn more about Oklahoma City porcelain veneers by contacting OKC Smiles at 405-634-7303 or via the online form for a dental veneer consultation.
We provide veneers to patients from Moore and Norman, OK, and the surrounding areas of Oklahoma City.
Related Content