When you imagine traditional dentures, do you think of the loose dentures that constantly fall out that you see in movies? While traditional dentures are often viewed negatively, dentures can be a great thing. These days, you have more than one option for denture care, including dentures that are firmly attached to your gums. 
While traditional dentures have their place, snap-on dentures are a better option for many patients. This type of denture is made to fit your mouth perfectly while still being removable, so you can take them out when you need to.
If you have questions about snap-on dentures in Oklahoma City, reach out to OKC Smiles at your convenience. We can provide a consultation to see what type of denture or tooth replacement option is best for you. Call to set up an appointment.
Snap In Dentures in Oklahoma City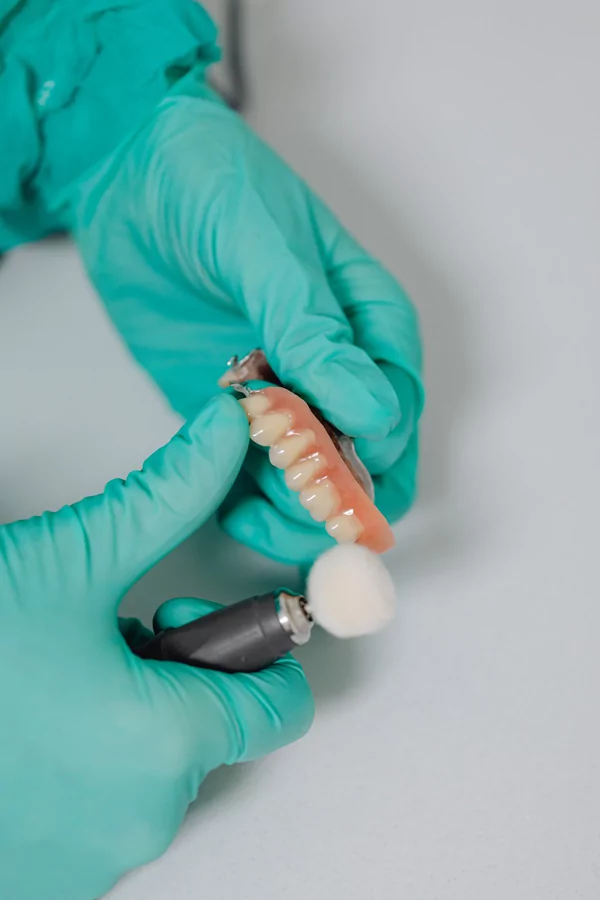 Now there's a way to wear beautiful dental implants while reducing the cost. If you need a full set of natural-looking dentures, just ask our Oklahoma City cosmetic dentists Dr. Murray, DDS, or Dr. Phan, DDS, about innovative snap-on dentures.
Mini dental implants serve as the root and the foundation of your new smile. Through a simple surgery, we can place your dental implants quickly. The implants can then anchor the dentures and strengthen the jawbone.
Snap-on dentures become your new teeth, substituting for a complete upper or lower arch. Because they attach so easily to dental implants, these dentures are easy to use. And they look and function much more like natural teeth.
Snap-on dentures offer stability and convenience. You can snap them on and off as many times as needed without worrying about them coming out when you don't want them to.
Missing out on Teeth? Missing out on Life?
Do you have missing teeth or damaged teeth? How about a faulty denture? These are frustrating problems that greatly impact your daily life. They can make it uncomfortable or even painful to do everyday things.
Missing teeth or poor tooth replacements can cause our patients to miss out on life's simple pleasures, like:
Eating and enjoying their favorite foods
Smiling, laughing, and speaking with confidence
With missing teeth or poor replacement options, you could be at risk for more severe dental conditions, too, including infection or loss of bone density in your jaw. 
Living with missing teeth is difficult, but you can find solutions that allow you to be comfortable and have better oral health. A perfect solution to restore your enjoyable lifestyle is waiting for you at OKC Smiles, near Moore and Norman, OK.
Easy Process. Outstanding Results.
Snap-on denture placement is unbelievably easy. We can place your dental implants in less than two hours, using a precise and gentle technique. Of course, you will be provided with local anesthesia to ensure your comfort and relaxation. You can expect to leave the procedure with minimal discomfort, thanks to our skilled team's careful approach.
After the implants heal, you'll get your snap-on dentures. We will provide you with a custom-made snap-on denture that is easy to remove, replace, and clean. We'll make sure your dentures complement your facial features perfectly. The entire process is relatively straightforward. You're going to love that your dentures look, feel, and function like a real smile, enhancing your confidence and quality of life!
Get Started with Snap-on Dentures in Oklahoma City!
Come into our office near Norman and Moore, OK, to meet your caring dentist and discuss costs and treatment options. He will take an x-ray of your mouth so he can chart out your ideal procedure. Whether you need traditional dentures, implant-support dentures, or another replacement tooth option, our caring dental staff will find the right solution for you.
From advanced technology to skillful professionals, we have it all here. To schedule your consultation, contact OKC Smiles today!
Related Content