Having a tooth extraction isn't exactly something that anyone ever really wants to resort to. However, having a tooth pulled can sometimes be necessary if a tooth infection has gone too deep, or if other remedial treatments have not been able to successfully stop the need for tooth extraction.
When you have a chipped, broken, infected, or painful tooth, getting it fixed right away is important for your health and comfort. Sometimes that means removal, but we offer comprehensive tooth pain solutions at OKC Smiles. Call today to request an appointment or to learn more about tooth extractions.
Dental Extractions & Wisdom Teeth Removal in Oklahoma City
When you need a tooth extraction, you want to go with a dental team that you can trust to offer a comfortable environment and professional experience.
At OKC Smiles, our dentist and their support staff provide a safe place where your all dental needs are met with our comprehensive dental care. Whether you need a tooth removed because of decay, dental trauma, or any other reason, we provide ways to lower your stress during the process. We always use pain management techniques such as local anesthesia, and we also have a range of dental sedation treatments.
Dr. Phan and Dr. Murray are here to help, however complex your situation. We have the tools to relieve your pain and improve your oral health.
Benefits of Tooth Extraction with Oklahoma City Dentist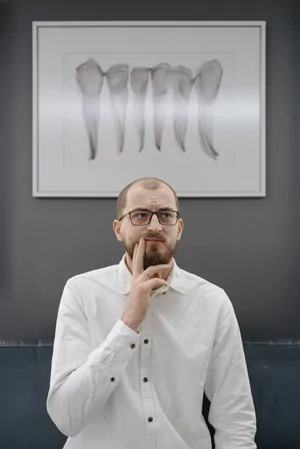 If your toothache has become bad enough that you need a tooth pulled, it can in fact be beneficial. Some of the benefits of having a tooth extraction for a severe toothache or other dental issue include:
Toothache Relief| Having a constant toothache can be both distracting and discomforting, not to mention potentially dangerous for your overall oral health. Having the tooth pulled can put a stop to your toothache and get you back on track.
Removal of infection-causing bacteria | By removing the host of the infection (your tooth) with a professional dental extraction, our team can help get your teeth to a better place. Keeping an infected tooth that should be extracted can result in infection spreading further in your mouth, and into other teeth too.
A new tooth through restorative dentistry | After your tooth has been removed, you don't have to worry about having a gap in your smile

—

restorative dentistry can help you keep the beautiful smile you desire!

You'll be able to eat, chew, speak, and drink with no issues with our tooth replacement options.

Aesthetic results | With a missing tooth, you may feel hesitant to show off your smile. You may want to hide your teeth because you don't like how they look. With tooth extractions and the accompanying replacement tooth options, you'll feel good about your mouth again.

If you require a tooth pulled, our Oklahoma City team has the experience, equipment, and know-how to make sure that your tooth extraction is safe, comfortable, and effective. We are proud to provide top-quality care to all of our patients, especially those with tooth extraction needs. We work hard so that each patient who visits us from the Moore and Norman, OK, area is satisfied with their tooth removal results and can move forward with working towards maintaining good oral health.
Wisdom Teeth Removal
Do you or someone in your family need to have their wisdom teeth removed? While wisdom teeth removal is a common procedure, it does require a skilled hand. When getting wisdom teeth taken out, you want to choose a dentist who has experience with oral surgeries and can ensure a quick, effective process.
At OKC Smiles, we provide wisdom teeth removal services in the Oklahoma City area. Removing wisdom teeth before they erupt is the best way to prevent the risk of dental problems, but we can also remove wisdom teeth that have already grown in.
Discover more about wisdom tooth removal in a comfortable, welcoming dental office; call today to request an appointment.
What Is Wisdom Teeth Removal?
Wisdom teeth are the last teeth to grow in. They are also referred to as the "third molars." However, while humans hundreds of years ago used their wisdom teeth to be able to grind down certain types of food, most people today don't have big enough mouths to support wisdom teeth. While not all individuals even get wisdom teeth at all, most people have wisdom teeth form in their teens.
When wisdom teeth start coming in, they often don't have enough room to grow and can become impacted. This can cause pain and discomfort and could lead to a tooth infection or other dental problems. Your dentist may recommend wisdom tooth extraction even before your teeth are impacted, just to avoid potential dental issues down the road.
We offer wisdom teeth extraction procedures right here at OKC Smiles with a team you already know and trust.
Dr. Mark Phan performs wisdom tooth removal services at our practice located in southern Oklahoma City—right near Norman and Moore, OK. He can remove wisdom teeth that have already erupted if needed, as well as impacted wisdom teeth.
How the Process Works
The wisdom teeth extraction process is relatively simple and can be performed in just one visit. During the procedure, local anesthesia will be applied to minimize any pain or discomfort during the process. For patients who are nervous about their procedure or who experience dental anxiety, we are happy to offer sedation dentistry options as well.
If you or a loved one are in need of wisdom tooth extraction services or have questions about the wisdom teeth removal process, please give us a call to schedule a visit with our Oklahoma City wisdom tooth removal dentist, Dr. Phan, DDS.
Why Get Wisdom Teeth Removed?
While some people don't need to have their wisdom teeth removed, the average person will benefit from the removal process. Getting wisdom teeth removed ensures your mouth has enough room to support all of the teeth. Wisdom teeth often cause dental health issues, such as infection, crooked teeth, and bite problems.
It's best to get a wisdom tooth consultation to assess the state of your mouth and determine if they need to be removed. We will walk you through the process to make sure you feel at ease.
Get a Tooth Pulled in Oklahoma City!
Whether you need one tooth pulled or many, Dr. Phan, Dr. Murray, and the rest of the team at OKC Smiles are here to assist you and ensure you end up with a smile you love once again.
Have questions for us about tooth extraction, toothache(s), or other general questions about having a tooth pulled? Get in touch with our team today in Oklahoma City! We work with patients from all over the area, from Moore, OK, to Norman, OK!
Related Content