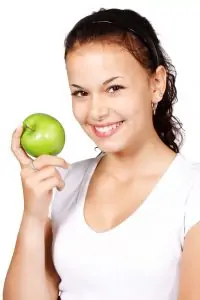 Like any other dental practice, we fill a lot of cavities at OKC Smiles in Oklahoma City. Did you know that more than ninety percent of American adults have had cavities at some point? That's a lot of drilling and filling.
We use white fillings, also called composite fillings, and there are some good reasons for that. For one thing, they blend almost seamlessly with your teeth, so that no one is going to know they're there, even when you burst out laughing.
Another good reason is that more and more people are concerned about the safety of old-style silver fillings. It's true that silver fillings have been used in dentistry for more than a century, and are extremely durable. And it's also true that they still have the approval of the American Dental Association and the World Health Organization, because they are stable.
But it is also true that silver fillings contain mercury, which is toxic. While the jury may still be out about whether they should be used, we use white fillings because we'd rather be safe than sorry.
Many of our patients also say they don't want to take any chances, and who can blame them? Composite fillings are durable and resistant to fracturing. That means they are strong enough to withstand all the pressure put on them from constant chewing. They are especially good for filling small to mid-sized cavities.
Of course, it's best if you don't need any cavities at all. That may not be very realistic in the long run. But you can minimize your chances of tooth decay by brushing your teeth twice a day, and flossing at least once. It's also essential that you see us at OKC Smiles in Oklahoma City twice a year for a cleaning and checkup. Our services include general and cosmetic dentistry. Make an appointment today.
Contact OKC Smiles:
Location (Tap to open in Google Maps):