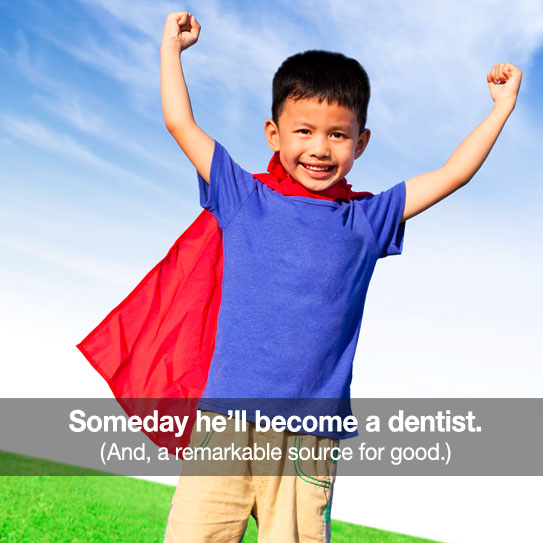 AT FIRST GLANCE the title of this post may seem a little ambitious. We admit that. But we're passionate about what we do and we hope you feel that each time you visit us. And in some small (yet very significant) ways, team members here really do feel like we change the world.
It's Not About Teeth
Does that sound strange coming from our dental practice? We're being a tiny bit facetious to illustrate a point. Here are some of the ways you can have a powerful impact for good through the dental profession:
1. You Will Dispel Fears & Stereotypes
Modern dentistry isn't your grandparent's dentistry. Never before in history have dental materials and services been so comfortable, so effective, so life changing and accessible to so many as they are today.
2. You Will Build Trusted, Lifelong Friendships
It's one of the things we love most. When it comes to connecting broadly and deeply with so many people and with our community—while helping patients stay healthy and confident—few careers provide the rich opportunities dentistry provides.
3. You Will Restore Confidence For Many You Serve
There are no greater feelings than the ones that come when you see a patient smile who was embarrassed to smile before. Truly life enhancing. You'll feel like you're walking on clouds (alongside your patient).
4. You Will Educate For Better Health (and you may save a life)
Our oral health is inextricably linked to our overall well-being. It's a privilege and serious responsibility to continually educate about important topics such as oral cancer.
5. You Will Help Sustain Quality Of Life For "Seasoned" Patients
As live expectancies continue to increase, we love helping people keep healthy smiles decades longer. We do that through continuing education, modern technological developments, and thoughtful preventative maintenance.
Do You Know Someone Considering A Dentistry Career?
If so, please pass this blog post along to them regardless of whether they're considering becoming a hygienist, dentist, dental assistant or dental administrator.
And if that person would like to visit with us, please have them give us a call. We'd be happy to visit with them.
Check Out This Related Video…
This was shared by the American Dental Education Association (ADEA) which provides students with information and assistance in reaching their dental career goals. Students in the video share the reasons they're pursuing dentistry:
Thanks for being part of our practice family. We love what we do because of you!
If you have more questions about this topic, ask below or directly on our Facebook page.