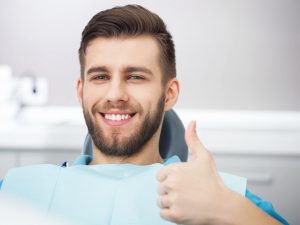 At OKC Smiles in Oklahoma City, each dental professional on our team helps us operate smoothly and provide a high level of care. This post focuses on the duties of a dental assistant.
You probably think of the dental assistant as: "The one who suctions my mouth while the dentist is working on me," or "The one who attaches the bib around my neck," and you are right. However, their knowledge of patient care and dental lab procedures is probably more extensive than you might realize.
Competent dental assistants work behind the scenes at OKC Smiles. They assist during all dental procedures including basic oral examinations, tooth prep, and cavity filling. Our assistants also work with our dental hygienists during cleanings and patient instruction.
When a patient arrives for an appointment, the dental assistant has already been preparing for the necessary procedure. Before they are escorted to a chair in one of our pleasant patient rooms, the assistant has made sure the room is ready.
Dental assistants may also prepare tray setups, take impressions for restorations, schedule appointments, take X-rays, and maintain patient records.
At OKC Smiles in Oklahoma City, dental assistants are valued members of our team, helping to bring our complete general dentistry to patients throughout Norman, Edmond, and Mustang. Our office is equipped for wheelchair access and we offer mobile dentistry to several area nursing homes. Schedule your next checkup with us today!
Contact OKC Smiles:
Location (Tap to open in Google Maps):
ArticleID 8189